Use Code BrightSide60 and save 60% at Checkout on all Courses
Introduction to Hand Lettering & Faux Calligraphy
A Multipart Online Video Course
Have you seen hand lettering everywhere? We have and it's beautiful! We love the personal touch it gives and even more the wonderful creative outlet that it is. Lettering has brought so much fun and meaning to our lives and we can't wait to share it with you!
On sale for $40
with code
BRIGHTSIDE60
You'll see the discount applied in Checkout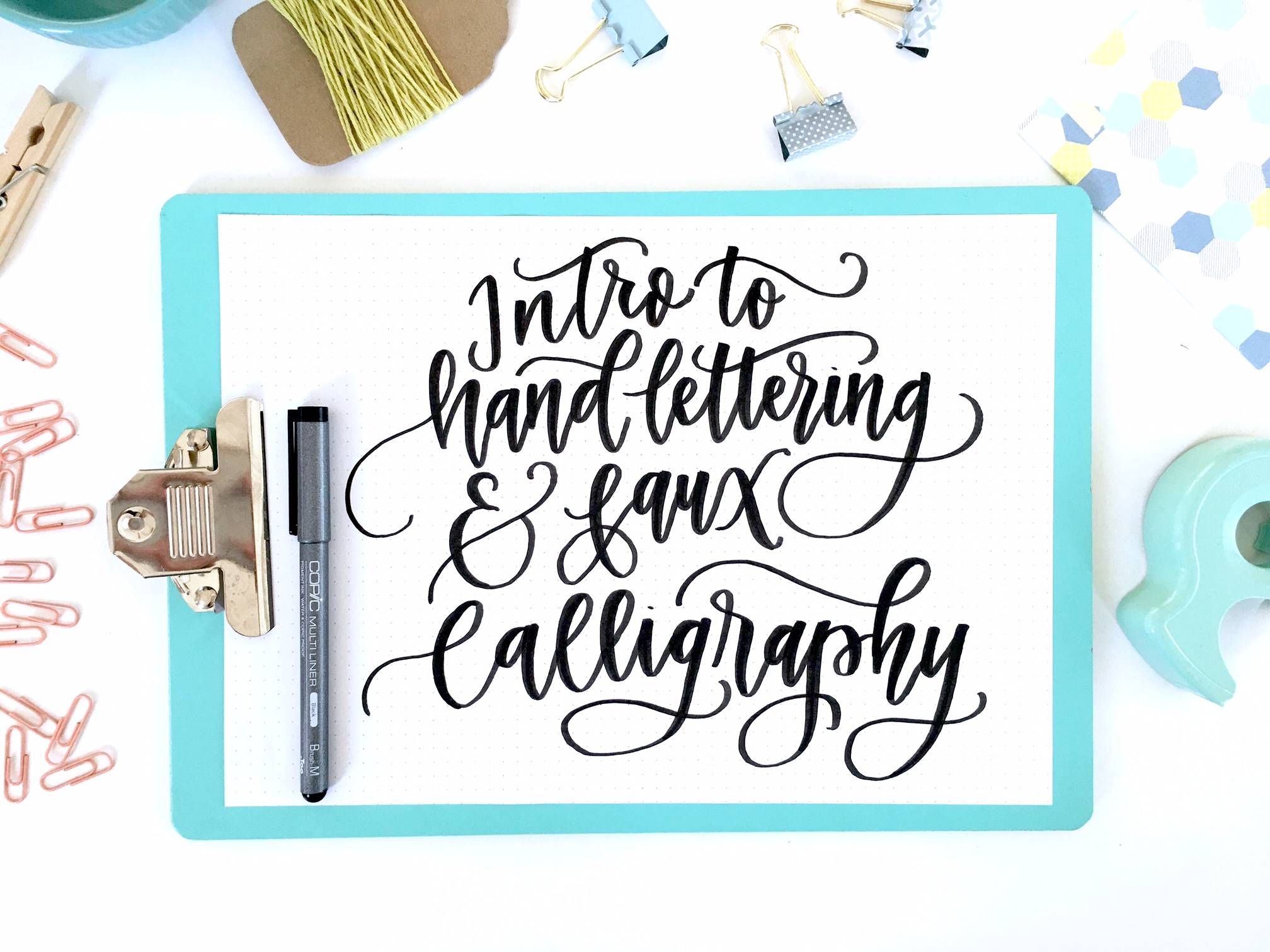 When you get started, it's so easy to get discouraged when your first attempts don't look anything like what you've seen. How are they doing that?! We asked ourselves all of those same questions and then worked and practiced our hearts out until we learned all the tricks.
Now you don't have to waste the time that we did because we will show you everything you need to create beautiful hand lettering! Wondering how to thicken the strokes? How to connect the letters together? How to make it look "flowy" and beautiful? We have you covered! We can't wait to dive in and get started!
Take a Look Inside the Course :)
---
We're Lisa and Addi and we love to letter :)
We created this course after teaching in-person workshops to both small and large audiences (Look for us at Pinners Conference, for example).  We always wanted to dive deeper, but a multi-night commitment for our students is tough to do so we came up with the idea to put our instructions online, in High-Def Video. We've added attachments that can be downloaded, materials checklists, and the with our online classroom the instructions are easy to follow.
Follow us on Instagram if you want to see more of her work!
---
With our online classroom you can take as long as you need to master each section. Watch the course as many times as you like, your access never expires. Plus, we're able to zoom in on our work as we go so you can see where we put our hands, how we hold the markers, and when we pause or shift for each letter. This is the best way to learn because it's so flexible, you can fit this in your life.
---
Let's talk about what we love about lettering. This has become our outlet for creativity, an escape from day-to-day tasks to a place where we can focus on meaningful words and thoughts. This is a hobby you can take with you whereever you go, it's easy to share, and it adds beauty to the world around you. Here are just a few ideas on how to add lettering to your life.
1. Practice lettering a quote that brings you joy - make lettering a mindful exercise
2. Add beauty to a gift by lettering a personal card
3. Personalize an event by creating your own placecards
4. Celebrate by creating a birthday banner, a birth announcement, or graduation
5. Decorate your space with your own lettering art (see the flourishing section)
We'll teach you step-by-step, no previous experience (or good handwriting) necessary. You control the pace, so watch a section as many times as you need to get comfortable with each skill.
Faux calligraphy is taught using markers, not expensive brush pens. This has several advantages - Markers are typically easier to find and cost much much less than brush pens, and they are easier to use! With our faux calligraphy methodology you'll be able to start faster.
We've literally had hundreds of people complete this course. Our in-person experience is critical because we know what questions people would ask and so we've been able to work those into the material.
Normally $100
Now 60% off with Discount Code BRIGHTSIDE60
$40 (Discount Applied at Checkout)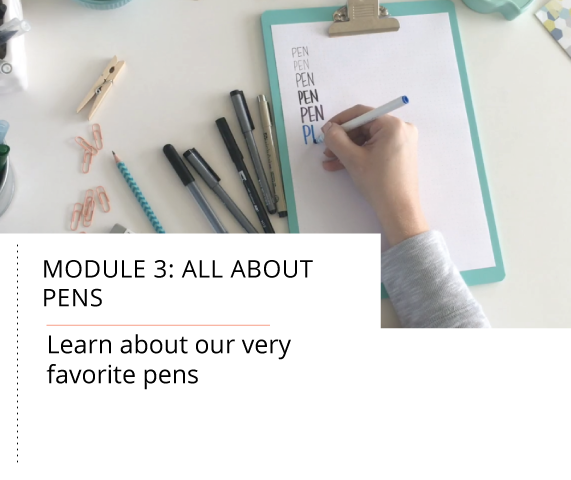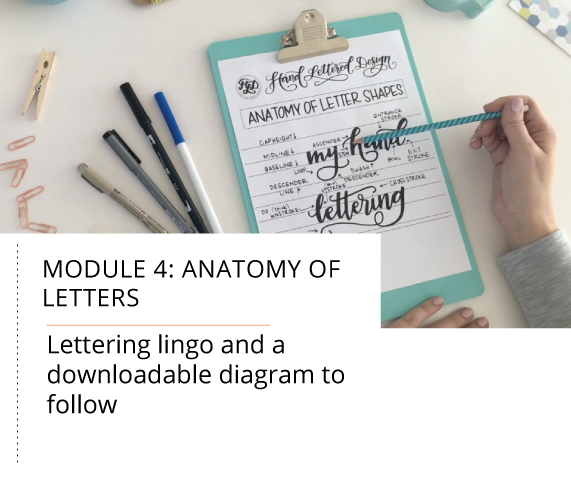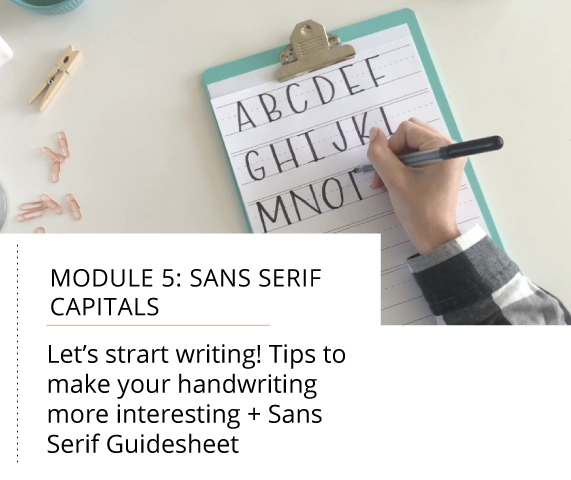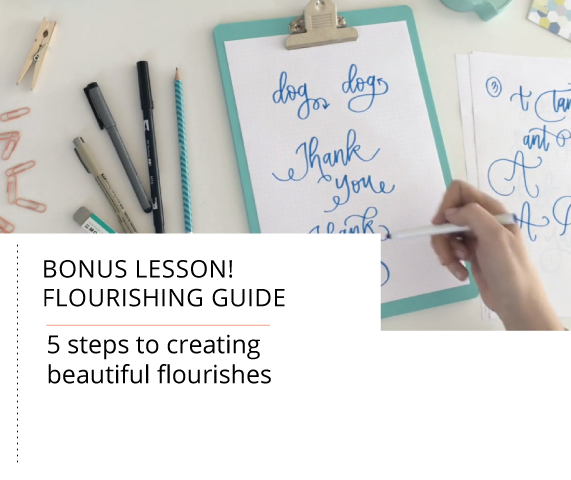 Here's a Detailed Description of Each Module in the Course
Chapter 1: Let's Party!                                             02:51
1. Video - Addi & Lisa welcome you to class!
2. Welcome to Intro to Hand Lettering & Faux Calligraphy
3. Class Supply List
Chapter 2: Let's talk Paper                                   07:05
1. Video Lesson - Paper Overview
2. A Closer look at that paper...
Chapter 3: All About Pens                                   06:12
1. Video Lesson - Learn about our favorite pens!
2. Complete list of all our favorite pens
Chapter 4: Anatomy of Letter Shapes         03:07
1. DOWNLOAD: Diagram to Print & follow along
2. Video Lesson: The Anatomy of Letter Shapes
3. Review: Lettering Lingo to get you Started
Chapter 5: Sans Serif Capital Letters         07:32
1. DOWNLOAD: Sans Serif Capital Guide Sheet - Print out first for this section
2. Video Lesson: Sans Serif Capital Letter Overview
3. Review: Sans Serif Capitals
Chapter 6: Serif Capital Letters                     24:31
1. DOWNLOAD: Serif Capital Guide Sheet - Print this to follow along!
2. Video Lesson: Let's Talk Serifs
3. Review: Serif Capitals
Chapter 7: Script Alphabet & creating the Calligraphy look   29:28
1. DOWNLOAD: Script Guide sheets - Print to use for this section!
2. Video Lesson: Script Alphabet, here we come!
3. Review: This is it - that beautiful cursive you've been waiting to create!
Chapter 8: Let's connect those letters together!                         27:27

1. DOWNLOAD: How to connect every single letter - Print this to follow along!
2. Video Lesson: How to connect all the letters together for that modern calligraphy look...
3. Review: Connecting is KEY!
Chapter 9: Making those letters dance like Modern Calligraphy 10:14
1. DOWNLOAD: Blank lined sheets to use for this module.
2. Video Lesson: The Dancing Baseline
3. Review: Making those letters dance beautifully...
Chapter 10: You did it!!                                 02:36
1. Video: Recap & Farewell
2. Review: We're so proud!
Bonus Lesson! Flourishing Guide - 5 Steps to Creating Beautiful Flourishes                             14:23
1. Video Lesson: Amazing Flourishing Tops to Get you Started!
2. Review: Flourishing is so fun and these tips will help you so much!
3. Download: 3 Independent Flourishes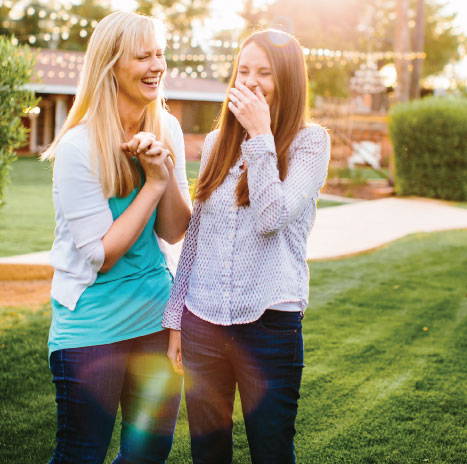 We are Addi & Lisa, lettering artists whose passion is helping you create beautiful hand lettering while having fun along the way. We have taught over 1200 students (in-person and online) the ways of the lettering world. In the process, we have heard and answered every question and know exactly how to help you really learn lettering once and for all.
We're here to help you whether you are just starting and hate your handwriting or have been loving lettering for a while but just want to take it to the next level. We make lettering fun and make you feel right at home by being real, down to earth and making mistakes right along with you (and then showing you how you can fix them!). We can't wait to have you along for the ride.