A Perfect Start for Beginners
Learn Brush Pen Calligraphy Today
Are you ready for a meaningful hobby that not only is a creative outlet but helps you find more joy in life?
The Guide to Mindful Lettering is for you!
It will teach you all the tips you need to

learn brush lettering

and also has 50 positive affirmations that you can trace and re-write as an inspiring mindfulness practice.
This book teaches how to use Brush Pens to create Brush Calligraphy which is a different skill than Faux Calligraphy (which we teach in the Creative Lettering Journal).
The book has a sturdy matte UV cover and nice, smooth, heavy pages that won't bleed (hooray!) and a spiral binding to lay flat.
De-stress with a Creative Outlet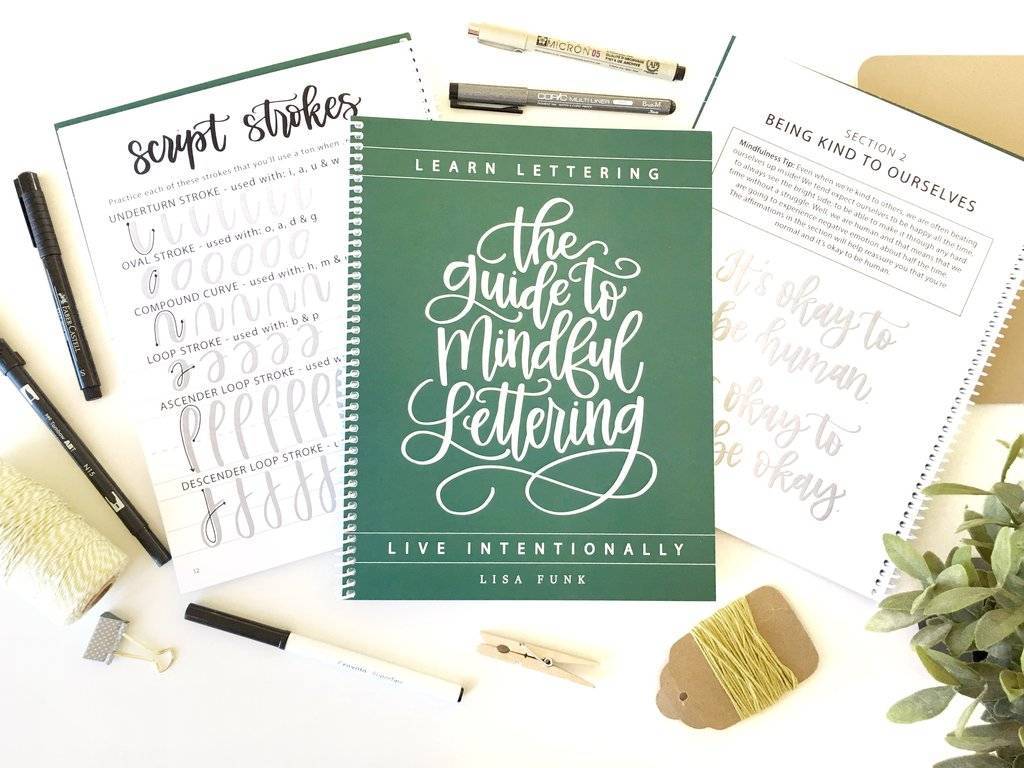 During one of the most challenging times of my life, I found lettering and it saved me.
It gave me an escape, a creative outlet and a reason to look for positivity.
I clung to the inspiration that I would write and re-write as I practiced and it brought so much joy to my life!
I started teaching in-person workshops to share my love of lettering. I've distilled that knowledge and experience down to the essentials here to help you get started with brush pens.
In this workbook, you will learn the basics of Brush Lettering. We'll start by covering the terminology and tools and then jump into exercises to improve your control of the brush pen with your up and down strokes. After practicing your strokes we will then cover how to create each letter!
I recommend covering each page with tracing paper so you can repeat the practice activities again and again.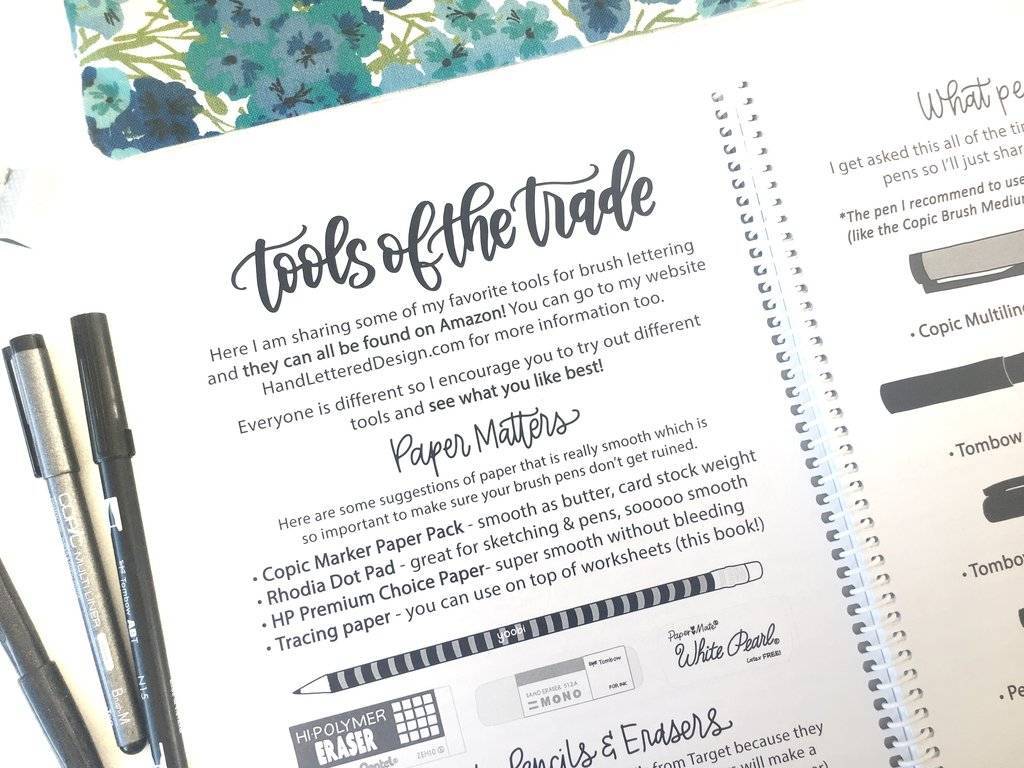 The purpose of this workbook goes beyond just covering the basics. I want to show you how to use your lettering practice as a way to meditate and release stress from your life. We focus on internalizing positive affirmations that can heal your mind and create a purposeful life you love!
This is the great reward that comes from lettering!
Let Me Show You Around the Book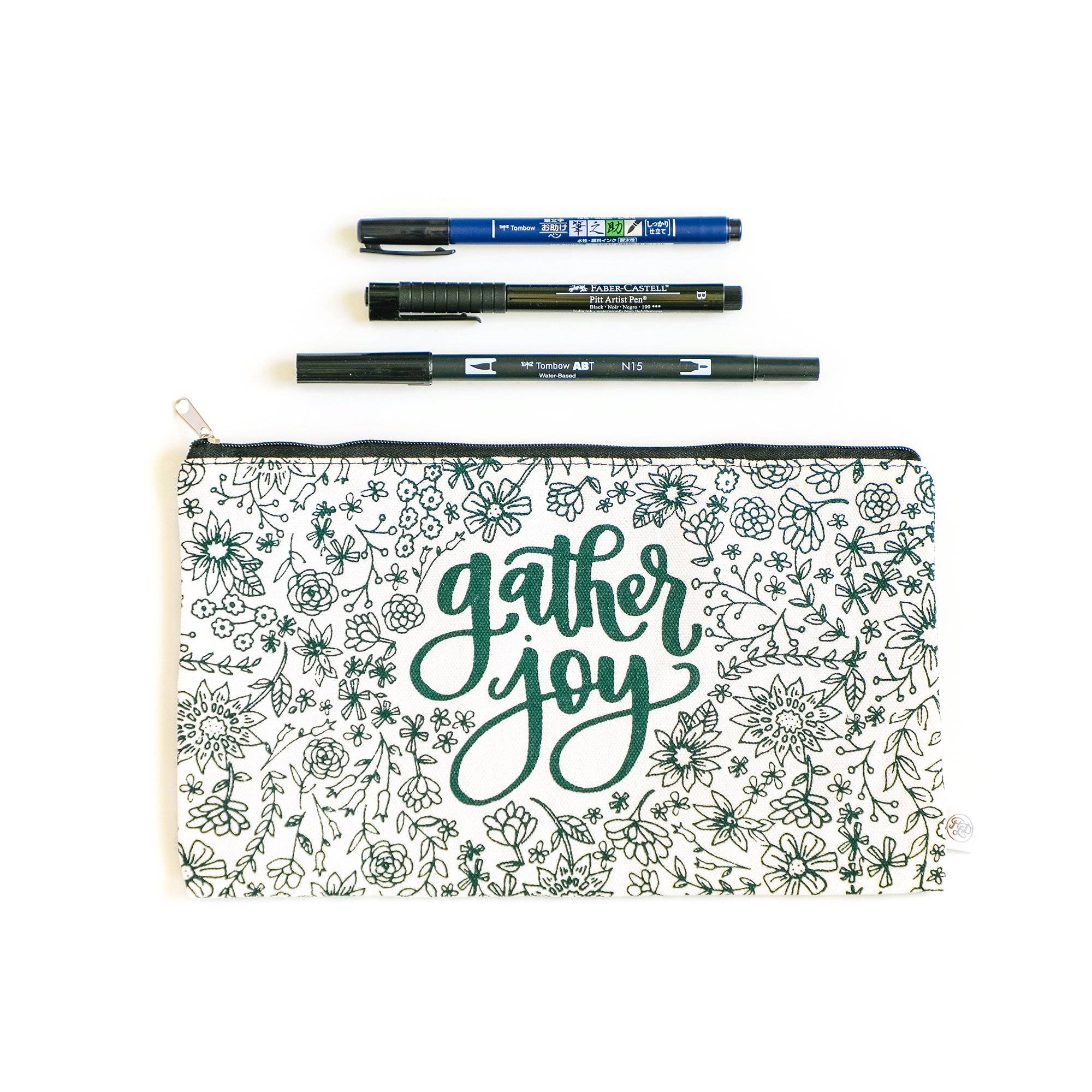 1. The Tombow Fudenosuke pen - with a small brush tip, this is perfect for place cards.
2. The Faber-Castell Pitt Artist pen - our all-around favorite. The medium size brush pen is ideal for a variety of projects.
3. The Tombow Dual Brush pen - This one has a large brush tip, it's really fun to use. It also has a bullet tip you can use to outline your letters.
The pouch is our own design; it's oversized to fit larger brush pens and it can hold the perfect lettering notebooks for taking your work on the go!
It comes in two color options.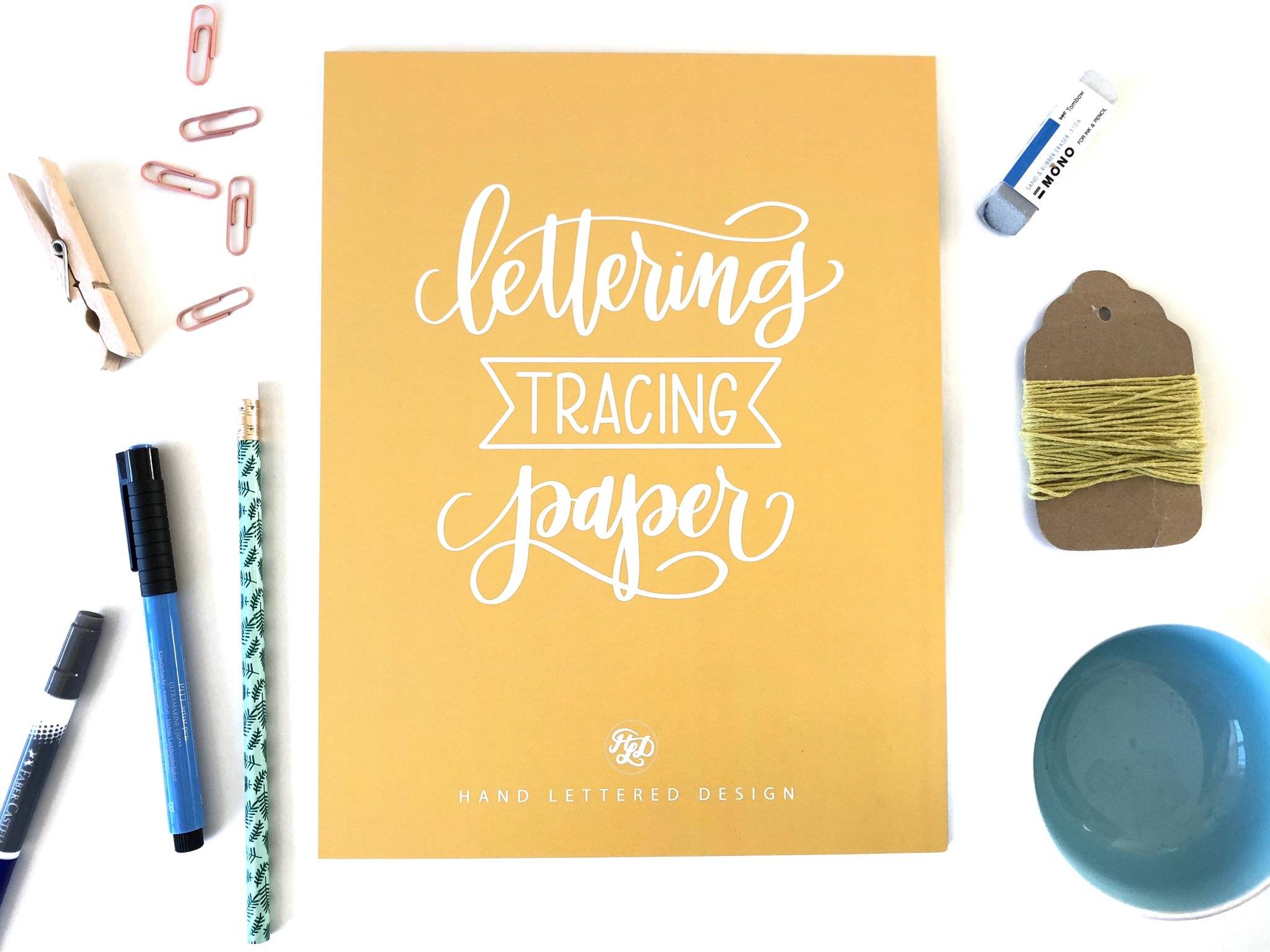 I have used so many different brands of tracing paper, some cheap stuff and even really expensive vellum...and I'd take this paper over ANY of them.
I searched and searched for the perfect paper for lettering and finally found what I like, so I've created my own pad with what I believe is the best out there. Put it side-by-side with any other brand, this stuff lays flatter and is easier to trace on. I just love it!
Even More Info About the Book
See What Past Buyers Have to Say
Customer Reviews
100%
of reviewers would recommend this product to a friend
The Guide to Mindful Lettering
I just received the product and look forward to practicing.. My handwriting is horrible, as I write too fast and my letters all run together which makes anything I write difficult to read... I'm hopeful that your product and videos will help me to improve greatly...
Great workbook!
This is my third workbook from Lisa and I'm learning a lot. I'm a lefty so the top spiral was the best choice for me. I'm on my second pack of tracing paper and it's the smoothest I've ever used. If you want to learn brush lettering, this workbook is a fabulous resource. Just don't give up—it's pretty tricky at first!
Fun and beautiful
I love this course in lettering. It comes with everything you need and right away it gives you confidence that you can do it!!