On Sale!
More than 50% off for a short time
No Code Required
The Perfect Summer Creative Activity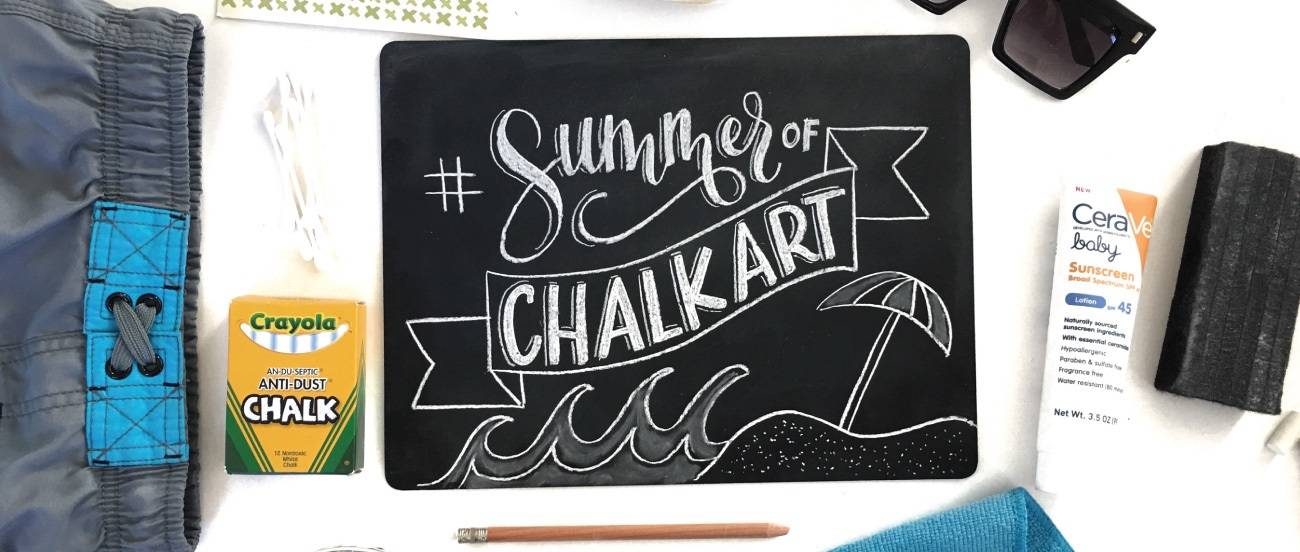 I created this course when I was struggling to find a fun activity for my whole family to do together! I love SO many things about summer…AND summertime can be ROUGH for me for a couple of reasons:
#1: I miss having a little bit of breathing room for myself while at least some of the kids are at school.
#2 :The kids get BORED. You don't want them to turn to screens all the time, but you're not a full-time entertainer and gosh, it's exhausting.
Let me share a way to solve BOTH of these problems (hooray!!!).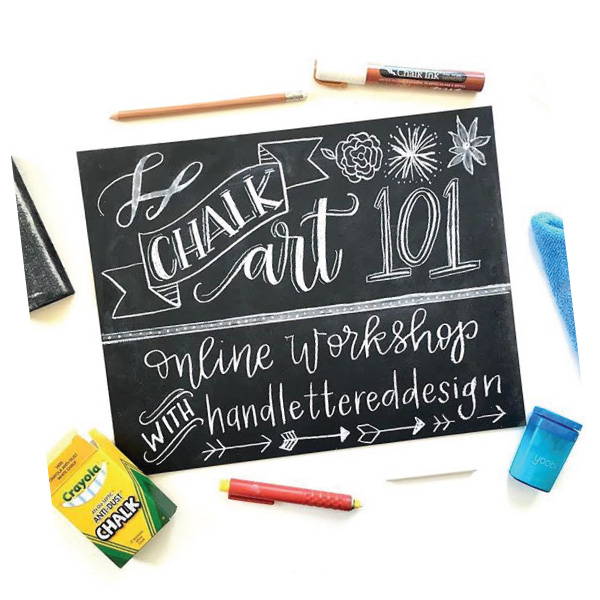 The Chalk Art 101 course is perfect for beginners and SUCH a fun way to learn something creative together with your kids…
AND we're now including a FREE BONUS: Summer of Chalk Art Mini-Course where you'll find specific tools and ideas for creating Chalkboards together with your fam.
Now you don't have to worry about waiting for the kids to be gone to have time to go through this course… You get to do it together with them and have beautiful memories of creating together.
And BONUS: not only do you have you and your kids doing something really fun while you watch the videos together but they'll likely want to continue creating chalkboards for hours afterward!
And remember, you get lifetime access and there's no limit to how many times
you can watch the videos…Perfect for working at your own pace!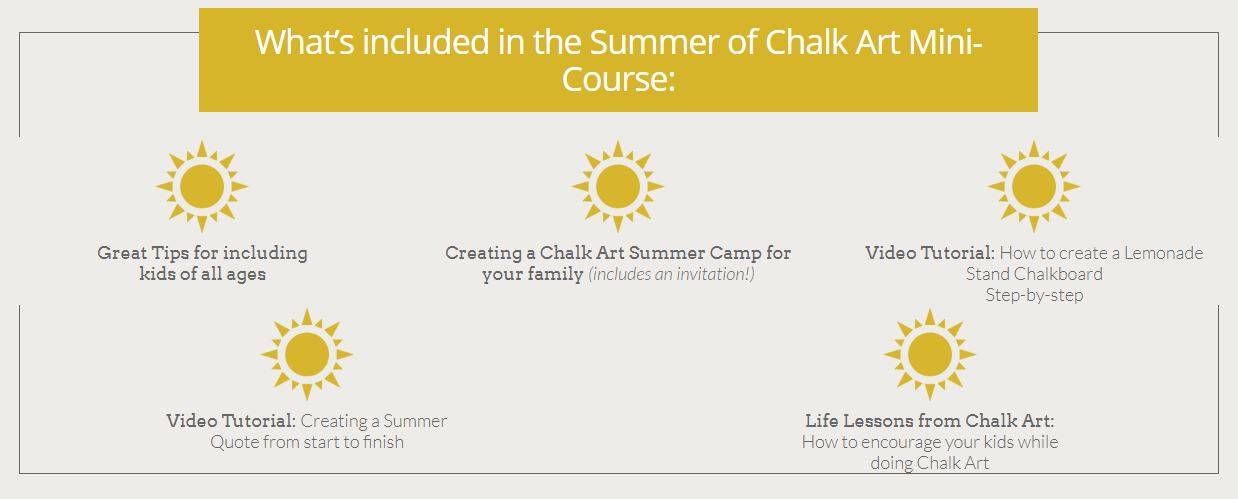 "I now feel way more comfortable doing my own chalk art. This class was so worth it. You can feel confident that you are learning from the best!"
-Jess G.
You've Seen Beautiful Chalk Art Everywhere…
…online, at your local bakery & the shower you went to last week. You likely have a chalkboard in your house (or many) and now you're ready to really make them beautiful!
We take all of the mystery out of how to create a beautiful chalkboard and show you STEP-by-STEP how to make it happen. You are going to love following along with your chalk as you learn all the tips and tricks to becoming a Chalk Art Expert!
"Taking this class is a real time saver because you learn so many tips and tricks to this art in one class! Pure meat, no fluff!"
-Cindy T.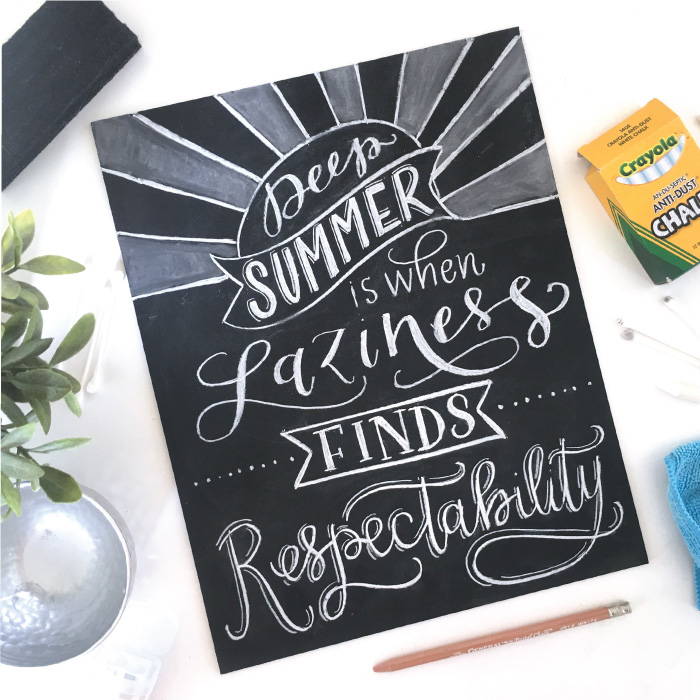 Chalk Art 101 including over 3 hours of video (value $85)

BONUS: Birthday Chalkboard Tutorial (value $30)

BONUS: Summer of Chalk Art Mini-Class including over 70 minutes of video (value $45)
Total Value: $160
I recommend this product
"letterly" the most fun I've had since being quarantined!
Honest, literally the most fun. I made, by hand, 37 postcards. One for each of my students. They turned out SO darn cute! I cannot wait for them to get their postcards and know how loved they are and that each letter was crafted with them in mind. The fancy letters, each swirl, any detail I was able to add to each letter of each postcard message made it feel like I was making a specialized little prayer for health, safety, and security for my children. Thank you for giving me to tools to do this. If I could send a picture of the cards, I would!
So much fun
I love the step by step instructions. The material guided tour through Home Depot was excellent. It took all of the guesswork out of how and where to find large chalkboards. I also love the banner and layout sections. It really teaches you how to make your Chalk Art look professional.
I recommend this product
So much fun!
I am a 25 year teacher veteran and have never really liked how my classroom charts have looked before but now that I am practicing my hand lettering with these easy to follow videos and easy to use tools, I can't wait to make some amazing classroom charts when school begins in August! I have been having so much fun practicing and learning! The best part is that you can rewind, restart, or come back to the instructional videos as many times as needed. Life happens and sometimes you don't have an hour to sit and watch all of the videos, so just hit pause or come back to them when you are ready. Love, love, love!
I recommend this product