Which Book
Are you wondering which one is for you?
If you want the easiest way to get started creating lettering like what you see on your favorite artist's instagram feeds I recommend...
The Creative Lettering Journal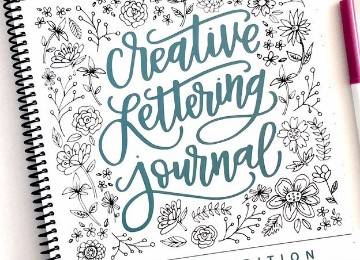 That's because in the Creative Lettering Journal I start you out with faux calligraphy. The strokes are easier and you get the broad strokes by going back and filling your letters in. Also, this type of lettering doesn't require fancy brush pens, in fact I recommend using markers (I have some here in the store or you can pick some up from Target or WalMart).
This is the Easiest Path to Get Started
This has lower and uppercase alphabet guides and exercises you can do, printed on the high quality paper that won't bleed through.
Here's the trailer for the Creative Lettering Journal...
---
Now if you're ready to learn brush calligaphy this is the book for you...
The Guide to Mindful Lettering
You can Master Brush Pen Lettering
When I first got started, I was always blaming the pen. My lettering just wasn't turning out right, so I'd toss the pen and try with another, only to end up in the same spot.
Then one day the lightbulb went off and I started figuring out what was holding me back. Since then I've taught thousands of people in-person at conferences and classrooms how to use brush pens, and I've taken all that knowledge and experience and condensed it down to this book:
Inside you'll find step-by-step instructions on how to create the right upstrokes and downstrokes, where you put your arm, how to hold the pen, along with practice sheets for the lower and uppercase alphabet. I also include inspirational quotes and thoughts to make your practice meaningful.
Here's the trailer for the Guide to Mindful Lettering.