If you have an experienced letterer in your life, they will love the gifts in this guide! These products will help take their hand lettering to the next level.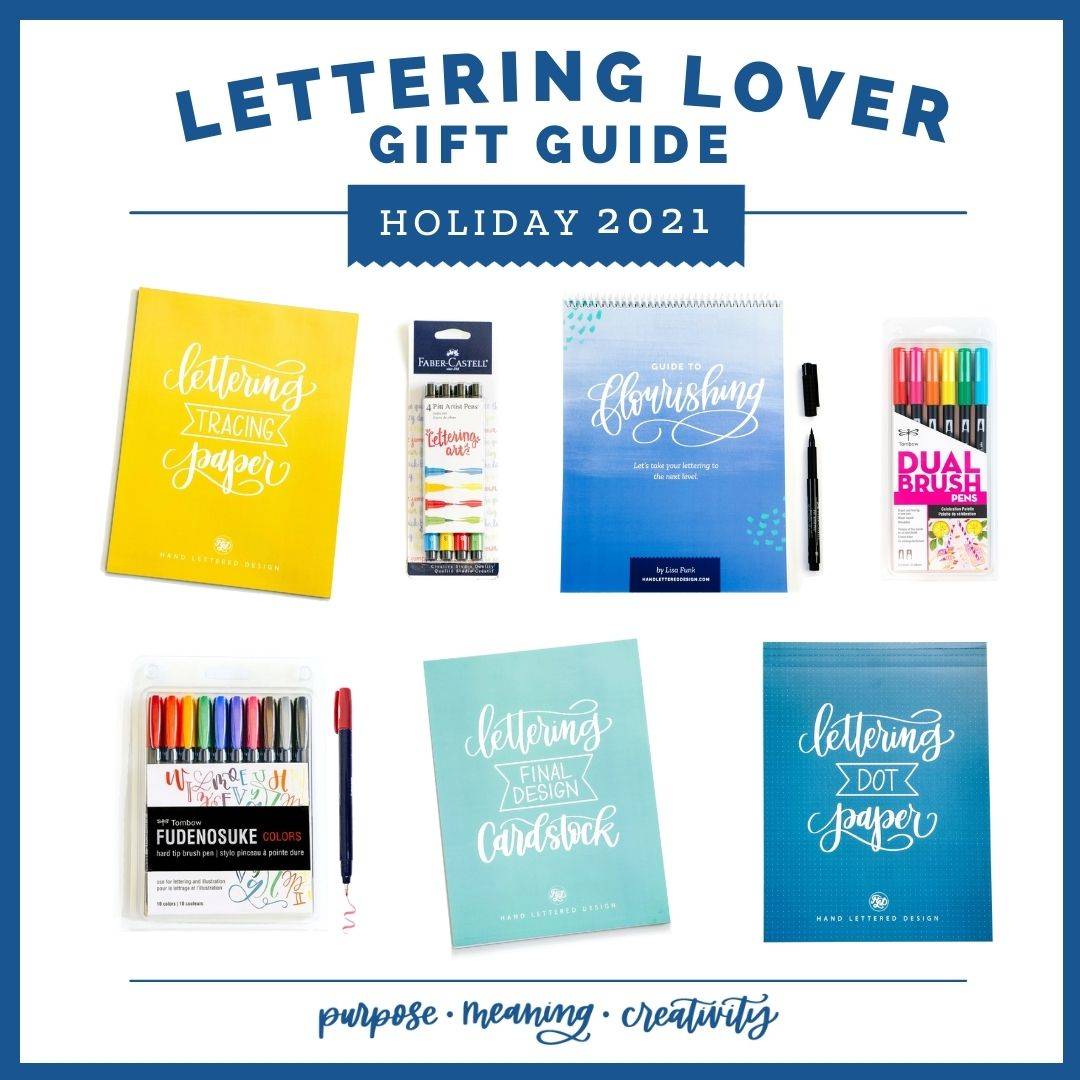 The Guide to Flourishing Workbook
Lettering Tracing Paper Pad
Faber-Castell Pitt Artist Brush Pen Primary Set
Lettering Dot Paper Pad
Fudenosuke Hard Tip Brush Pens
Lettering Final Design Cardstock
Tombow Dual Brush Pen Celebration Set
... and a BONUS gift that I think pairs well with them all! 🎁 (Scroll down to see!)
The Guide to Flourishing is perfect for anyone who wants to take their hand lettering to the next level. It gives VERY specific tips about brush lettering layouts and flourishes, common mistakes to avoid, and includes 26 pages of flourishing templates: one for each letter of the alphabet!
Like all of our workbooks, it also comes with a video tutorial that shows exactly how to get started.
The workbook comes with my favorite medium brush pen, but you can also save with a bundle option that also includes ALL of the other papers mentioned in this guide: tracing paper, dot grid paper, and final design cardstock!
The paper here is something special. Put it side-by-side to other tracing pads, this paper is smoother, sits flatter and crisper, and is more transparent. It works so well with brush pens and markers.
My favorite way to use our Lettering Tracing Paper is to paper clip a sheet on top of a page in any of our workbooks, so you can trace and practice pages over and over again!
Hand lettering benefits from lots of practice as it builds up arm strength and muscle memory, so this tracing paper is a can't-miss for any serious letterer.
Ah, the Faber-Castell Pitt Artist Brush Pen. These just might be my favorite brush pens of all time!
These medium-sized pens have a flexible brush nib that creates beautiful lettering. The tips work like a paint brush, so you can create both thin and thick lines.
This "primary" set is filled with classic, bold colors that will stand out confidently on any page.
For anyone looking to practice their flourishing and layouts, you can't beat a dot pad!
Our lettering dot paper has a faint dot grid in the background that helps you keep your lettering straight and plan a composed layout or design for lettering longer phrases or quotes. The grid is subtle enough to not be distracting, but clear enough to see. A win-win!
I use dot paper ALL the time for my hand lettering. You can check out my Real-Time Hand Lettering Guide on Instagram to see this paper in action.
These Fudenosuke Hard Tip Brush Pens are the perfect marriage of a hard nib pen and a brush pen. While I love these pens for beginners as a first-time brush pen, they are also great for experienced letterers looking to do intricate lettering work.
These pens make it super easy to transition between thick and thin lines. And you won't run out of colors to choose from in this rainbow set!
They're great for smaller lettering projects like journaling, place cards, envelopes, and more.
Ready to frame that final design? Our Lettering Cardstock is what you need!
This paper is SUPER smooth: it's amazing to any size brush pen. I tested a huge number of different papers and finally found what I was looking for, so you can trust that this paper was specifically chosen for lettering projects.
This pack comes shrink-wrapped, so there's no cutting or tearing out pages with jagged or crooked edges. Perfect for creating hand-lettered gifts for the holidays!
These Dual Brush pens are a 2 for 1 deal: each pen is double-sided with a large flexible brush tip on one side and a hard nib on the other.
This one set is all you need to get those beautiful, flowy brush strokes AND consistent hard lines.
And what's better for the holidays than a collection called "Celebration"? These colors are vibrant and playful and will be a great addition to any letterer's pen collection.
Speaking of those final designs, for anyone who has perfected their layout using pencil or a dot grid and is ready to put that brush pen to paper, a light box is an AMAZING tool that allows you to easily trace any design in ink, especially for when you don't want to use tracing paper.
I love this one because it's super light and portable, is dimmable (so cool!) and is also super inexpensive but makes a standout gift.
*This item is sold by Amazon.
looking for more gift guides?