Looking for a gift for someone who could use some more mindfulness in their life? I created these products to help anyone who struggles with anxiety or depression. Give the gift of peace & calm this holiday season!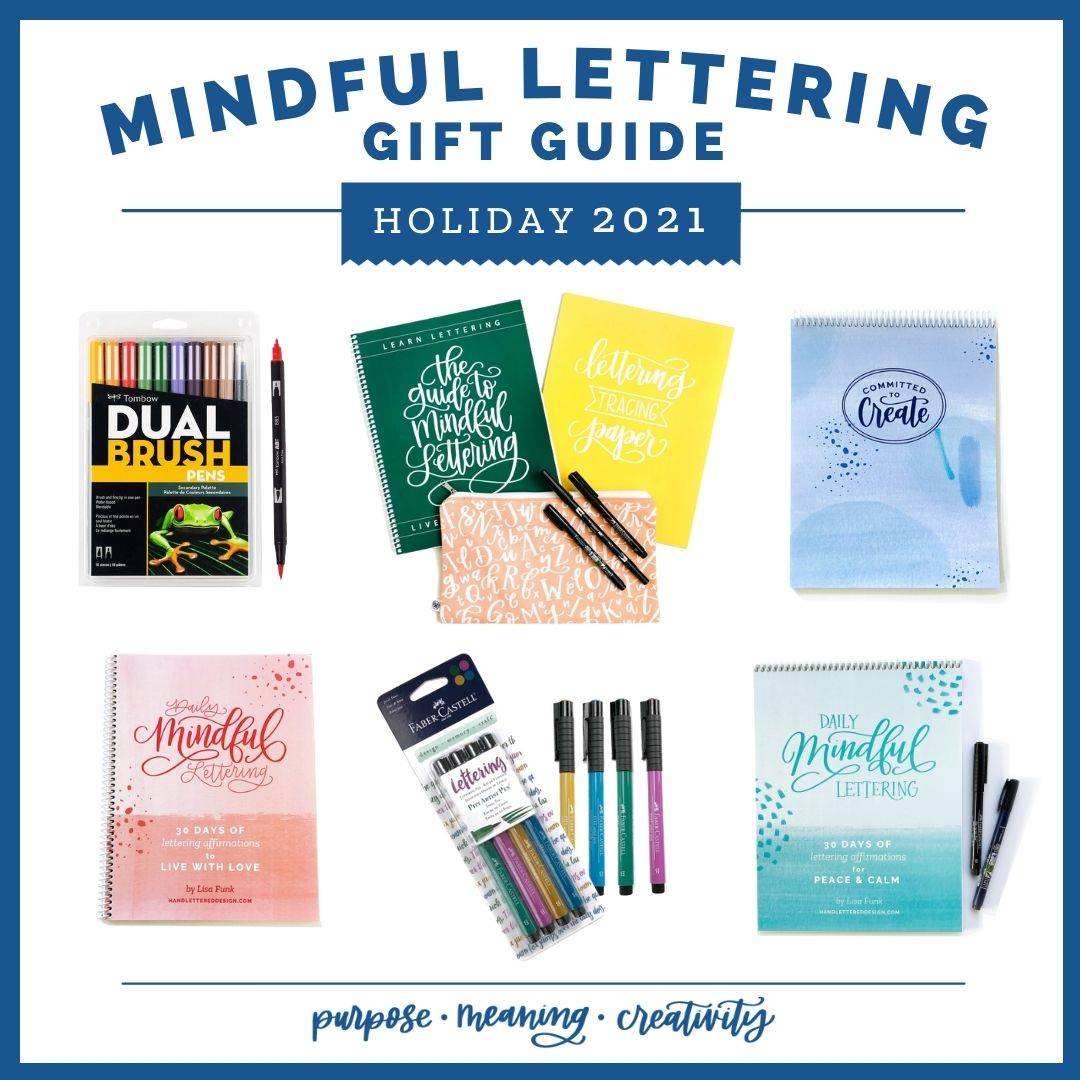 Daily Mindful Lettering Vol. 2: Peace & Calm
The Guide to Mindful Lettering Bundle
Faber-Castell Pitt Artist Brush Pen Jewel Set
Daily Mindful Lettering Vol. 1: Live with Love
Tombow Dual Brush Pens Secondary Colors Set
Committed to Create Top Spiral Notebook
... and a BONUS gift that I think pairs well with them all! 🎁 (Scroll down to see!)
This workbook was designed for anyone who struggles with anxiety (like me!) It includes 30 daily peaceful and calming affirmations in 5 unique lettering styles.
Tracing each day's affirmations takes just a few minutes a day. It's a great way to add some creativity and mindfulness in a short amount of time.
Positive affirmations have been shown to help change our inner narrative, improve our outlook and help us to feel more hopeful, relaxed and happy. Lettering them daily is a powerful way to internalize them and bring more peace and calm to our lives.
Give the gift of a meaningful hobby that is not only a creative outlet but also helps to destress and find more joy in life!
The Guide to Mindful lettering includes 50 positive affirmations to help inspire mindfulness and to build hand lettering skills.
I teach brush calligraphy in this workbook. The bundle includes tracing paper (to practice pages multiple times!) and our Perfect Pen Pouch with my 3 favorite brush pens.
You get to choose between two super pretty pouch designs.
Ah, the Faber-Castell Pitt Artist Brush Pen. These just might be my favorite brush pens of all time!
These medium-sized pens have a flexible brush nib that creates beautiful lettering. The tips work like a paint brush, so you can create both thin and thick lines.
This "jewel" set is one of my favorites for holiday lettering. The colors are super rich and calming but also festive!
The first volume of the Daily Mindful Lettering collection is all about living with love.
In just 5 minutes a day, learn hand lettering by tracing affirmations of love in 5 unique lettering styles.
This practice is proven to help retrain our brains to think more positive and love-filled thoughts: about others and about ourselves.
Like all of our workbooks, this book is available in top and side spiral options (top spiral is great for lefties!) It also comes with 2 brush pens.
These Dual Brush pens are a 2 for 1 deal: each pen is double-sided with a large flexible brush tip on one side and a hard nib on the other.
This one set is all you need to get those beautiful, flowy brush strokes AND consistent hard lines.
This "secondary palette" colors set is super unique. I find myself reaching for these colors all the time! They are all very calming and work for any occasion.
Our Top-Spiral Notebooks are SO versatile, and this "Committed to Create" design is an amazing reminder to take time for yourself and your mindful creativity practice: whether that's lettering, journaling, drawing, or any kind of reflecting.
Each sheet of paper inside has one blank side and one dot grid side, which is great for helping you letter in a straight line. The paper quality is amazing: it's super smooth and thick, so your pens won't bleed through.
The top spiral is nice and wide, so any pen will fit easily inside the coil.
A task light like this one is a lifesaver for anyone who enjoys lettering or any creative practice.
It's amazing especially for anyone who is a night owl or doesn't have a lot of natural light wherever they like to work or create. No more shadows being cast from over head lighting!
I have this specific light and I love it. It moves around and can get close to your work easily.
*This item is sold by Amazon.
looking for more gift guides?