Ready to check off your holiday shopping for all of the creatives on your list? Our beginner-friendly products are perfect for kids, teens, or adults who love learning something new and getting creative.

Creative lettering journal bundle
This workbook bundle is the FIRST thing I recommend for anyone new to hand lettering.

It comes with my favorite tracing paper and a set of pens – everything needed to practice pages over and over again.
The Creative Lettering Journal teaches the faux calligraphy method and includes alphabet guides, reflective journal prompts, relaxing coloring pages, customizable thank you card templates and more.
perfect pen pouch starter kit
I literally tried hundreds of brush pens before deciding on the 3 pens in this set – and I can confidently say they are my true favorites.
Each one is a slightly different size, so this is a great set for beginners to experiment with.
Plus the larges pen is actually a dual brush pen – so it has a fine liner tip on the opposite end. And this pairs really well with any of my Perfect Lettering Notebooks... they fit right inside!
beginning with brush pens online course
Know someone who wishes they could do beautiful brush lettering? Or maybe someone who tried lettering before and got frustrated and gave up? This is the perfect course!
In step-by-step chapters, this fully-online course teaches tools, drills, and what we call "the magic secret sauce" of lettering. Print and script alphabets are included along with a bonus practice guide to download.
All of my courses are self-paced with lifetime access. When you order one as a gift, we'll email you a link and can help you send your gift recipient everything they'll need!
daily mindful lettering book: live with love
With this book you are giving two gifts: a mindfulness practice and a creative lettering practice.
Each of my Daily Mindful Lettering Books teaches 5 unique lettering styles through tracing mindful affirmations. This practice is proven to help retrain our brains to find positive thoughts when we need them most.
In this edition, each day has a new affirmation to help live with more love: towards others and towards ourselves. See the whole Daily Mindful Lettering collection here.
All of my favorite hand lettering papers… all in one place… at a discounted price!
This bundle includes dot grid, tracing paper, blank paper, and final design cardstock – all designed specifically for hand lettering.
That means every piece of paper in this bundle is SUPER smooth and thick, so they won't bleed through and they won't cause brush pen tips to fray.
medium brush pen 4-pack: Primary Colors
These medium sized brush pens are my #1 go-to for lettering for beginners. Honestly they are still my go-to after years of practice too!
They have a flexible brush nib that works like a paint brush, so it can create both thin and thick lines. This is a great starter set that includes 4 primary colors.
Perfect for new letterers or anyone who has only tried lettering using classic black pens – this is a great way to introduce a little color!
gifts for creatives wrap-up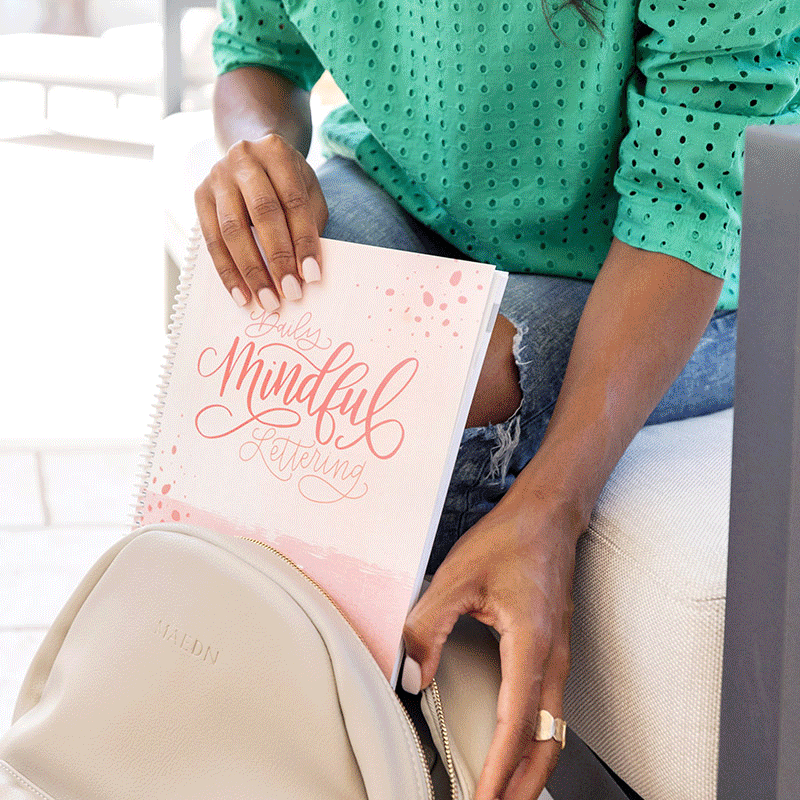 looking for more gift guides?