Ready for some stocking stuffers? These gifts are all under $27 so you can stock up on fun, creative gifts.

the ultimate hand lettered greeting card course
This might be a gift to give yourself if you're looking to add a special touch to your holiday cards this year!
This course includes over 1.5 hours of video instruction and a 30-page download packet filled with templates and designs. You'll learn my 3 Step Greeting Card Formula and a bunch of creative ways to address your envelopes.
There is something so special about receiving a handmade card – learn how to make your own and share that joy with someone you love!
perfect Pen Pouch Starter Kit - Pink
My search for the perfect brush pen led me to the three pens that are included in this set: 3 different sizes of brush tips (plus one fine liner tip on the opposite end of the largest brush pen).
They all fit into this adorable zippered pouch. I love pairing this pouch with my Perfect Lettering Notebooks (like the set below!) because they fit perfectly inside the pouch.
Mixed set of 3 perfect lettering notebooks
There's just something special about a handy little notebook. At 5.5" x 8.5", each of these notebooks is just the right size to toss into a backpack or purse or even a car glove compartment so it's there whenever you need it.
I love these books for everything from my grocery list to gratitude journaling and my kids love them too! They love having their very own notebook for sketching and drawing. These notebooks have alternating spreads of blank pages and subtle dot grid pages. Dot grid is great to give just a little structure for things like lists or bullet journaling.
committed to create top spiral notebook
Bullet journaling, doodling, lettering – our Top Spiral Notebooks are perfect for it all! This cover design is a great reminder to take a little me-time to just relax and create.
This full-size notebook comes with a wide top spiral, perfect for storing any marker or pen, and dual-sided sheets with blank on one side and a subtle dot-grid on the opposite site.
The paper quality is amazing in these too: it's super smooth and thick so a brush pen won't bleed through.
The paper here is really something special. Put it side-by-side with other tracing pads and you'll see how this paper is smoother, sits flatter and is more transparent.
I had this paper made especially for brush pens and you can really tell the difference – it is smooth enough to protect brush pen tips from wearing down super quickly like they do on regular paper.
My favorite way to use this paper is to pair it with any of our workbooks – I like to paper clip a sheet over any of my favorite pages to trace it and practice over and over again.
pitt artist brush pens - jewel tones
I've tried hundreds of brush pens, and these just might be my all time favorites!
These medium-sized pens have a flexible brush nib that creates beautiful lettering. The tip works like a paint brush to create both thick and thin lines.
This "jewel tones" set is one of my favorites for holiday lettering. The colors are super rich and festive.
dual brush pens - primary set of 6
12 pens for the price of 6… who doesn't love that? Each of these dual-sided pens have a brush tip on one end and a fine liner tip on the other.
This is a great starter brush pen set not only because it includes the two pen tip styles but because you get all the basic primary colors plus a black pen.
The brush tips are great for blending too. They will self-clean after so you don't have to worry about them getting stained.
stocking stuffers wrap-up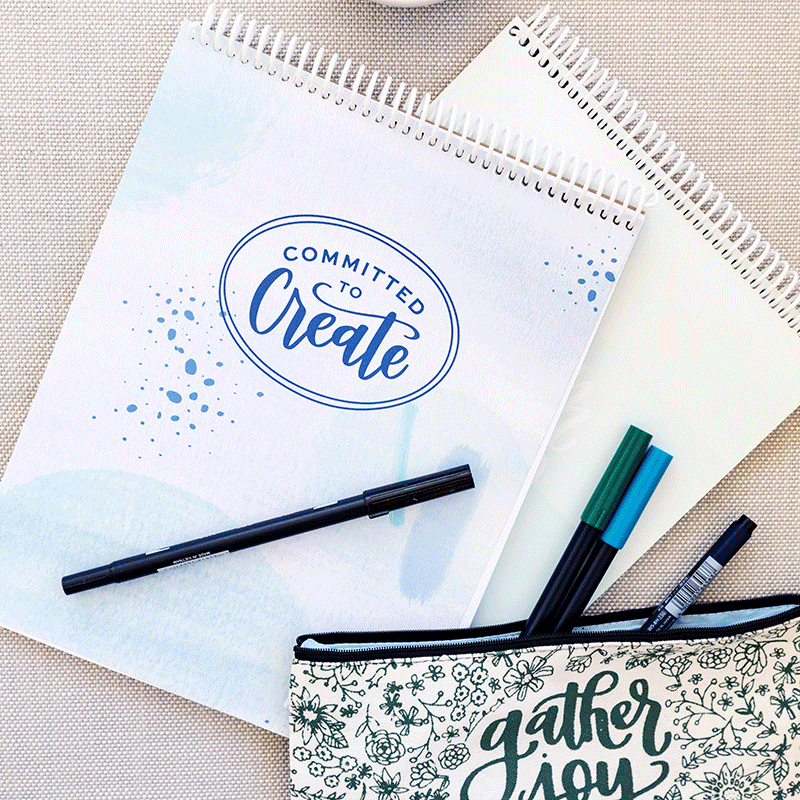 looking for more gift guides?