Shopping for someone who already loves hand lettering? These gifts will help them learn some unique brush pen (or stylus!) skills and use their lettering in new and different ways.

Intermediate LayouT & Flourishing Course
This course solves the mystery of creating perfectly balanced layout and beautiful flourished designs. Anyone who has a little lettering experience but wants to learn how to really take it to the next level will love this course!
I created a specific system for how to take your vision out of your head and get it down on the page. We'll talk layout, supplies, specific strokes to use, and practice sample layouts.
Plus I include a bonus mini-course all about drawing banners (SO cute for holiday gift tags and placecards!)
Anyone who loves to letter will love the gift of lettering on the go. Our Perfect Travel Bundle is the ideal size to throw into a backpack or purse for lettering, journaling, or doodling anywhere and anytime.
It includes my 3 favorite brush pens (each one is a different size), a set of 3 travel-sized 8.5" x 5.5" lettering notebooks, and your choice of zippered pouch – everything fits inside!
This workbook is a perfect gift for anyone who is looking to step up their hand lettering game. It gives VERY specific tips about brush lettering layouts and common mistakes to avoid.
It includes 26 pages of flourishing templates: one for each letter of the alphabet. This book comes with my favorite medium sized brush pen and a video tutorial, but you can also save an extra 10% with a bundle option that includes my favorite tracing paper, dot paper, and final design cardstock.
Mandala pens & stencil set
This is such a clever set from Faber Castell – it combines 2 superfine nib pens for creating thin, precise lines for outlining and tracing with 2 brush pens for wide, dramatic strokes and brush lettering.
It also comes with a reusable stencil! This is definitely a unique set for someone who already has a love for brush pens (like me!)
dual brush pen "secondary colors" PAck of 10
For someone who already has the basics… set them up with a set of secondary colored brush pens.
These dual brush pens have a large flexible brush tip on one end and a hard fine tip on the other, so it's like you are getting 20 different pens in this set of 10!
It's a great set for getting BOTH beautiful, flowing brush strokes AND consistent sharp lines.
Dual Brush Pen "celebration colors" 6-pack
Another 2 for 1 deal: each pen is double-sided with a large flexible brush tip on one side and a hard nib on the other.
This one set is all you need to get those beautiful, flowy brush strokes and consistent hard outlines.
And what's better for the holidays than a collection called "Celebration"? These colors are vibrant and playful and will be a great addition to any letterer's pen collection.
iPad lettering can be intimidating. I was so hesitant to try it at first but once I did I realized how amazing it can be. It's very easy to make edits or changes (which makes it so great for beginners too!)
In this course I teach how to use the iPad App Procreate (sold separately: it costs $9.99 on the App Store) to create super smooth, super satisfying hand lettering. For advanced letterers, I'll also share how to add lettering to photos, how to export for a die-cut machine, and lots more!
*Not sure if the person on your list has the right tech for this course? Find out here*
Gifts for lettering lovers wrap-up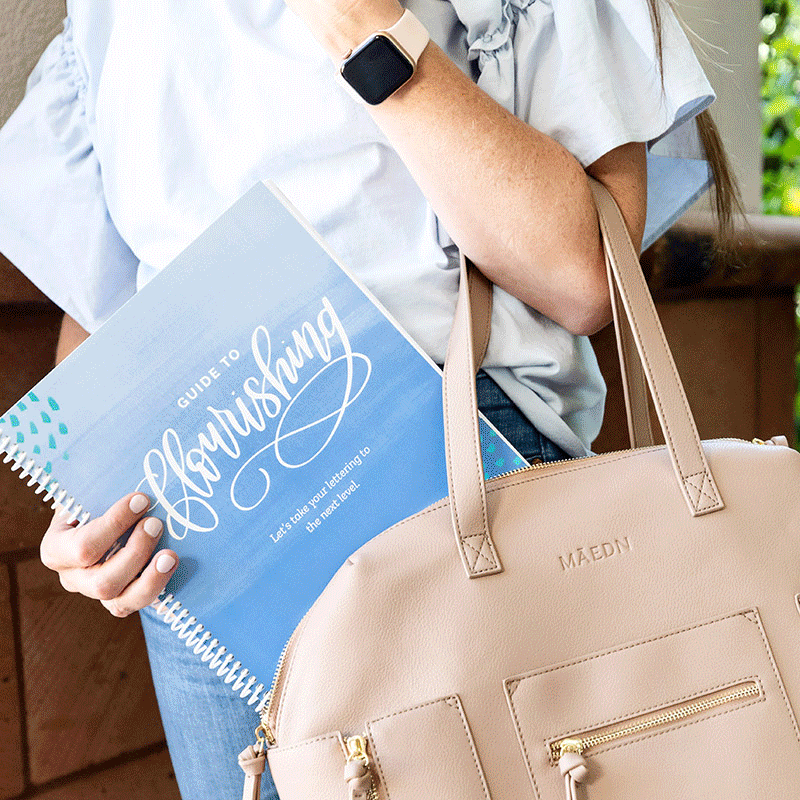 looking for more gift guides?